From August 2018 on, 140 people from Halle trained regularly with the choreographers Be and Mevlana van Vark.

The dancers were not professional dancers, but people from 4 to 81 years old.
With this project, on the occasion of the centenary of the Bauhaus, we are taking up the legendary celebratory culture of the Bauhaus, which staged and celebrated festive events as community-building elements.

Together we developed a contemporary dance theatre piece based on ideas from the Bauhaus movement.
Far more than just a design school, the Bauhaus also stood for the search for a better form of society.
Many of the questions are still relevant today: How can individuals develop and make their own decisions?
How can living together and community succeed? What role can art play in this?
Performances:
On 16 and 17 February 2019 Opera Halle
Artistic direction, choreography:
Be van Vark
Choreography:
Mevlana van Vark
Assistance:
Julek Kreutzer
Costume design:
Bärbel Jahn
Production management:
Sandrine Ribeiro
Project coordination:
Nicole Walldorf
⠀
Cooperation partner: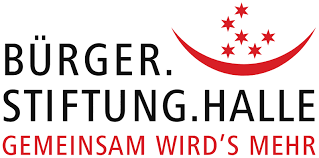 Sponsors:
Many citizens through donation